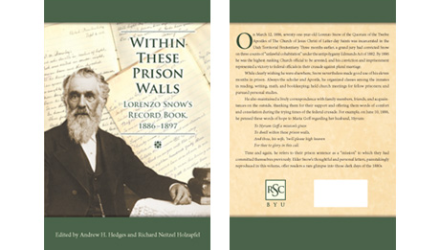 This is the front and back cover of a book published by the BYU Religious Studies Center, Within These Prison Walls: Lorenzo Snow's Prison Letterbook (click on the above image for a larger view of the entire dust jacket; if it's too big for your screen, use Ctrl-+ and Ctrl-hyphen to zoom in and out). The editors transcribed a small pocket diary that Lorenzo Snow used during his years in prison in the 1800s, in which he wrote letters, poetry, and other thoughts.
My clients sent me some snapshots of pages from the diary, as well as the diary cover. I also requested a high-quality photo of Lorenzo Snow himself. I arranged the pages in the background to serve as a neutral backdrop to the portrait, being sure to leave visible key words like "State Penitentiary" and the author's signature. I trimmed around the portrait's outline, keeping items in the foreground like the table and books, and placed it on top of the pages. I gave the portrait and the diary pages a slight drop shadow to the bottom left, to match the angle of the light in the portrait, which comes from the top right.
For the top and bottom bands, I picked a dark color to complement the light yellow of the diary pages. Last, I added a slight outer glow to the words of the title, to keep the edges of the title text from being garbled with the diary writing in the background, making the title easier to read. I gave my clients a choice of a few colors. They chose red, but I've displayed the green version here because I already have so many red things in my portfolio. I just can't seem to get away from reds!
On the back cover, I used the same font as in the interior of the book, for continuity. I also altered the colors of the client's logo (usually black, white, and gold) to match the color scheme of the rest of the cover.